Gretchen Hayden, Artistic Director


Shelley Chhabra


Meenakshi Verma Agrawal


Shefali Jain


Anjali Mitter Duva


Justine Watt


Fauzia Hassan


Anjali Nath


ARTISTIC DIRECTOR: GRETCHEN HAYDEN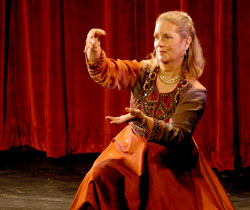 Gretchen Hayden is an internationally recognized performer and teacher of kathak dance. She is a senior disciple of the renowned master and guru, Pandit Chitresh Das. "My senior-most disciple, whose grace and elegance have always made her special."
Ms. Hayden has dedicated the last eighteen years to fostering kathak in New England. She is an active performer and teacher, often touring and performing with her husband. She teaches accredited kathak courses at Tufts University and Wellesley College. She teaches and performs regularly with her dance students, weaving tradition into innovative dance dramas, including The Legend of St. Lucy, The Story of Dymphna, and Kore. She, her husband, and Chhandika are bearers of tradition, carrying on the legacy of kathak and Hindustani music established in the U.S. and India by Pdt. Chitresh Das and Ustad Ali Akbar Khan.
Ms Hayden was born in Los Angeles, California and is the daughter of the late film actor, voyager and author Sterling Hayden. Her parents raised her in an environment that was artistic, stimulating, dramatic, and filled with beauty. And yet her father, who had extensive background with sailing ships, eventually did not want his children to grow up in the world of show business. After taking them on a yearlong, life-changing sea voyage (that included living in Tahiti for several months) they settled in the San Francisco Bay Area. Throughout these formative years, dance was always a passion for Ms. Hayden, but it was not until she walked into the world of kathak dance that her formal training began. She became entranced with this world of exhilarating footwork, theatrical stories, and the richness of the Indian classical traditions and culture.
Ms. Hayden started dancing kathak in 1972. Sarod maestro Ali Akbar Khan had founded his College of Music in 1968, and when dance-master Pandit Chitresh Das joined several years later, the school had relocated to San Rafael, California. It was here that Ms. Hayden found herself in the regular and rigorous study of the classical dance under Pdt. Das' tutelage, with vocal and rhythmic training enhanced by Ali Akbar Khansahib and his staff. Immersing herself in the training, she was also given prominent roles in gala dance productions, including Giri Govardhana and Sita Haran.
Pdt. Das left the College in 1980 to establish his own dance academy (the Chhandam School of Kathak dance) and a performing company, the Chitresh Das Dance Company (CDDC). At that time, Ms. Hayden became a principal soloist of the CDDC, and was teacher assistant Chhandam for the next ten years. She traveled to India, Canada, and throughout the U.S. giving workshops and recitals. During a stay in India in 1987, she received training from Mr. Das' parents, Nilima and Prahlad Das, and earned a Senior Degree from their Nritya Bharati Dance Academy (founded in 1942). She returned to the U.S. and performed a leading role in Pdt. Das' acclaimed production, The California Gold Rush.
In 1991, Ms. Hayden and her husband, sarodist George Ruckert, resided and taught in Basel, Switzerland and presented concerts throughout Germany, Holland, and Switzerland. When Mr. Ruckert accepted a position in MIT Department of Music and Theater Arts in 1992, they moved to the Boston area. Ms. Hayden established a school of kathak dance, offering classes for children, teens, and adults. Her school evolved into the non-profit Chhandika (Chhandam Institute of Kathak Dance) in 2002. Chhandika is a vigorous center, with classes in Cambridge, Andover, and Shrewsbury.